GLAESERgrow
Perfolia Perforated Film

Perforated Film STD
Our Perfolia Perforated Film offers a growth-promoting microclimate, similar to a greenhouse. Our film lets sunlight through during the day and reduces the infrared radiation from the ground at night. Thanks to the perforations, rain and irrigation can be distributed evenly onto the ground. In addition, the wind can no longer dry out the soil.
Anti-dew / Thermic Film

In addition to the properties of the Standard Film, our Anti-dew/Thermic Film has further advantages being additionally equipped with anti-dew and thermo-additives. Even with prolonged rainfall and short-term low temperatures your crops are well protected.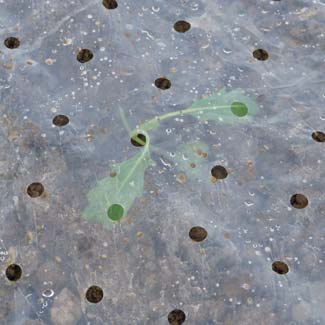 GLAESERgrow Perfolia Perforated Film Standard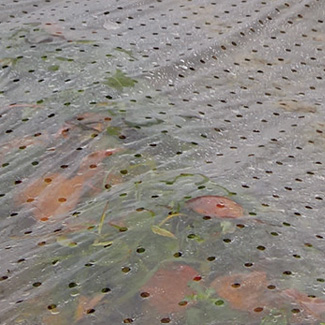 Product features:
high water-permeability

high light transmission

weather-resistant
Advantages:
optimization of plant growth through increased air and soil temperatures

excellent conditions for early harvesting

protection from cold, frost, snow and driving rain

minimization of insect infestation, bird and wildlife damage

growth promoting microclimate

permeable to solar power

even distribution of rain and irrigation on the ground thanks to perforation

no drying-out of the soil through wind/erosions
| | |
| --- | --- |
| Perforation | 125 / 250 / 500 / 750 holes/m² |
| Thickness | 40μm / 50μm |
| Widths | 6m / 8m / 10m / 10,50m / 11m / 11,50m / 12m / 12,75m / 13m / 13,60m / 14m / 16m* |
| Lengths | 100m / 250m / 500m / 1000m* |
*more sizes upon request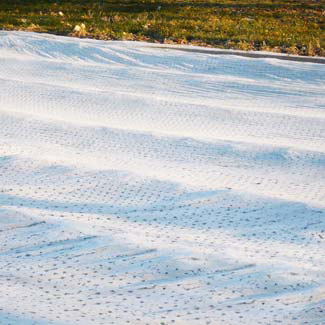 additional features vs. Standard:
additional equipment with anti-dew and thermo additives

reduction of infrared radiation from the ground at night
additional advantages vs. Standard:
thermic features provide better conditions for plant growth

protection of the crop also during longer precipitations and short-term low temperatures

additional equipment with anti-dew and thermo additives

growth promotion that results in earlier harvesting

low formation of droplets – minimization of leaf damage
| | |
| --- | --- |
| Perforation | 125 / 250 / 500 / 750 holes/m² |
| Thickness | 40 μm / 50 μm |
| Widths | 6m / 8m / 10m / 10,50m / 11m / 11,50m / 12m / 12,75m / 13m / 13,60m / 14m / 16m* |
| Lengths | 100m / 250m / 500m / 1000m* |
*more sizes upon request